BFL Solid Carbide 2 Flute Corner Radius End Mill, TiSiN
HRC: HRC45 HRC55 HRC58 HRC60 HRC65
Coated: AlTiN, TiAlN, TiSiN, TiN, DLC,Nano, Diamond
1.Widely used in the processing of high-hardness materials, such as copper, cast iron, carbon steel, and mould steel etc.
2.Recommend to select the size with minimum overhang required as long overhang is vulnerable to vibration, and thus need to reduce RPM and the feed volume
3.Need to adjust RPM and feed rate reasonably accoring to cutting depth, the machine rigidity and other conditions of usage
4.With highly heat-resistant ALTIN coating, can be used for high-speed processing
5.High toughness, using grain-sized carbon tungsten as the raw material
6.Help to increase the smoothness, reduce the friction coefficient,and improve the lathe efficiency, thus save more production time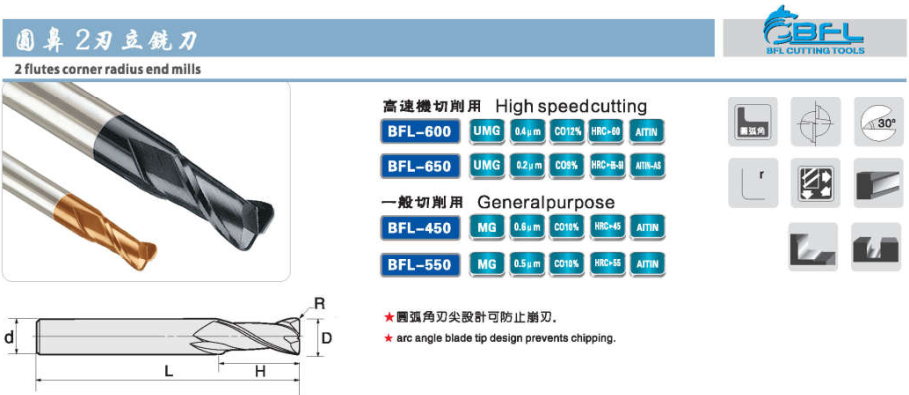 PRODUCT CODE
产品编号
FLUTE DIAMETER
刃径 (mm)
Radius
R径(mm)
FLUTE LENGTH
刃长 (mm)
OVERALL LENGTH
总长 (mm)
SHANK DIAMETER
柄径 (mm)

BFL-AR-020-05

2.0

R0.5

4

50

4

BFL-AR-030-05

3.0

R0.5

5

50

4

BFL-AR-040-05

4.0

R0.5

8

50

4

BFL-AR-040-10

4.0

R1

8

50

4

BFL-AR-060-05

6.0

R0.5

12

50

6

BFL-AR-060-10

6.0

R1

12

50

6

BFL-AR-080-05

8.0

R0.5

16

60

8

BFL-AR-080-10

8.0

R1

16

60

8

BFL-AR-080-15

8.0

R1.5

16

60

8

BFL-AR-100-05

10.0

R0.5

20

75

10

BFL-AR-100-10

10.0

R1

20

75

10

BFL-AR-100-15

10.0

R1.5

20

75

10

BFL-AR-120-05

12.0

R0.5

24

75

12

BFL-AR-120-10

12.0

R1

24

75

12

BFL-AR-120-15

12.0

R1.5

24

75

12

BFL-AR-120-20

12.0

R2

24

75

12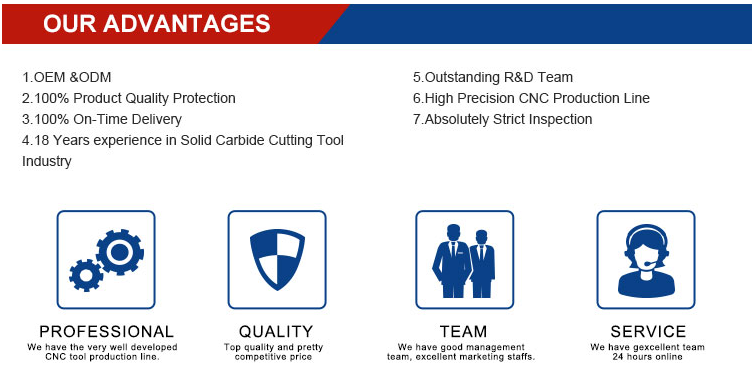 General Information
1>Delivery Time: 3-10Days
2>Payment Terms:T/T, Western Union, Paypal, AliExpress.
3>Shipping Terms: DHL. FEDEX, UPS, TNT, EMS.etc. according to your demand.
4>Main Markets: Thailand, Malaysia, Singapore, Philippines, Indonesia, Italy, Spain, Russia, Australia, Brazil, USA, Mexico, Czech, Poland, Germany, Turkey and so on.
Product positioning: Our Goal is Quality is No.1 Always. High Quality Reasonable Price. We believe quality can let us walk long time.
Our Service: High Performance Quality. Nice Patient Sales Person. Professional Experience Engineers. Responsible After-Sales Service.
Have any interesting, Welcome send inquiry to us.